Web shop
Your ticket shops are fully customizable and easily implemented into your own website. Sell tickets directly from your website or e-mail campaign, this will increase online traffic to your own website or social media pages instead of sending traffic to a third party ticket website.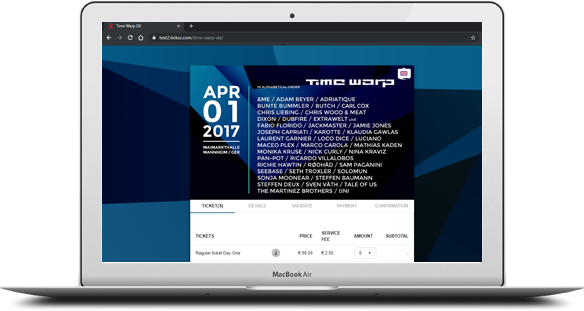 Mobile shop
In most cases, more than 60% of your ticket buyers access your ticketshop via their smartphone. Our ticket shops are fully responsive on any mobile device, and so is the personal styling we added to your shop!
Facebook shop
Adding your ticketshop to your Facebook page or event is just a matter of clicks. Your visitors will be able to buy a ticket within your Facebook page. This prevents refreshing errors from occuring.
Ticket types
Discount tickets, VIP tickets, infant tickets, mobile tickets, exhbitor tickets, promo tickets, every type of ticket is possible with our flexible ticketing platform.
Ticket types are generated with a few mouse clicks in your company's branding and style.
Payment methods
Make it easy on your visitors to buy tickets for your event. In addition to the usual payment methods like iDeal and Credit Card, offer your visitors PayPal, Bancontact/Mr.Cash and Sofort banking.
For your business events, enable payment bij invoice with our e-invoicing system. This way, you can focus on your event, we make sure you get paid. Find a complete overview of our payment methods here.
Currency
Planning on selling tickets outside the EU? Give your visitors the option to pay in their local currency. Ticksz offers all kind of different currencies for your ticket shops.
Entrance control
Hosting an event for 50 or 5,000 visitors, your entrance will operate smoothly with Ticksz smart scanners. Our scanners can finish the job offline and without wifi or external power. For smaller events, you can even scan tickets with your own phone using our Ticksz App.
Want to continue selling online tickets during your event? A wifi connection will keep your scanners in sync with your ticket sales. More than one entrance, with multiple scanners per entrance? It's all possible with the Ticksz scan system.
Door sales
Unfortunately, not all visitors will arrive with a pre-sale ticket in their pocket already. Monetize your remaining capacity by letting your customers buy tickets at your venue entrance. The Ticksz scanners will allow your last-minute visitors to pay with debit or credit card while keeping your entrance safe and cashless.
Guest list
With the guestlist tool you can easily put your friends, special guests and artists, or ticket winners on the guestlist with the Ticksz guestlist tool. Choose whether your want everyone on the list to receive a personalized ticket or if you prefer having your doorhost check off the box with their name to it, when they arrive.